In this post:
Minneapolis American Indian Center breaks ground on expansion
Three Tribes get $75M for relocation due to climate change
Michigan Gov. Whitmer appoints first member of Tribal Nation to state Court of Appeals
Biden to declare sacred Indigenous lands in Nevada a national monument
U.S. promised Tribes they always would have fish to eat, but those fish now carry toxins
Native Hawaiians still dealing with unexploded WWII munitions
Minneapolis American Indian Center plans $32.5 million expansion
"After years of planning, construction starts this week on a $32.5 million renovation and expansion of the half-century-old Minneapolis American Indian Center in south Minneapolis," Neil Anthony reports in the Star Tribune.
Architect Sam Olbekson, President of the Minneapolis American Indian Center's board of directors, is leading the Center's redesign," MPR reported. Olbekson, a citizen of the White Earth Nation, "grew up in the neighborhood and participated in the center's programming as a youth."
The new building will showcase a circular entrance/ceremonial space along Franklin Avenue. The Center's café, now in the building's interior, will move to the front. The project includes expanded public meeting spaces, a fitness center upgrade, and expanded art gallery.
The Community Center, 1530 E. Franklin Avenue, is in the heart of Minneapolis' American Indian community. Founded in 1975, it's one of the oldest Indian centers in the country, its website says. "We provide educational and social services to more than 10,000 members of the community annually. We preserve and support American Indian cultural traditions through art, youth and inter-generational programs."
The Star Tribune also reported on plans for a $50 million redevelopment of the small strip mall a few blocks west of the Center on Franklin Avenue (between Aldi'a grocery and Ancient Traders Market). It's owned by the Native American Community Clinic, and houses clinic space. The plan is to to build a larger, two-level health clinic with several stories of housing.
Three Tribes get $75M to relocation needed due to climate change
"Three Tribal communities in Alaska and Washington that have been severely impacted by the effects of climate change on their homes are getting $75 million from the Biden administration for relocation," NPR reports.
The Quinault Indian Nation, located on Washington's Olympic Peninsula; the Newtok Village, located on Alaska'a Ninglick River; and the Native Village of Napakiak, located on Alaska's Kuskokwim River, each will receive $25 million to move to higher ground, the Interior Department announced last week.
The Newtok Village "is experiencing progressive coastal erosion from ocean storms and degrading permafrost," the Interior Department said. "At the current rate of erosion of approximately 70 feet per year, the river is expected to threaten structures within two years and the village's critical infrastructure within four years."
The Native Village of Napakiak "is experiencing serious erosion that is threatening the school, fuel farm, water supply well, airport, homes and other critical infrastructure. Severe weather, storm surges and flooding are also major concerns. The ongoing erosion is estimated to be 25-50 feet per year. Most of the current critical infrastructure is expected to be destroyed by 2030."
The Quinault Indian Nation seeks to relocate its Taholah Village, now at the confluence of the Quinault River and Pacific Ocean. It's "particularly vulnerable to sea level rise, storm surges, and river flooding."
Michigan Gov. Whitmer appoints first member of Tribal Nation to state Court of Appeals
Governor Whitmer today announced she was appointing Judge Allie Greenleaf Maldonado to the Michigan Court of Appeals, District 4, the Turtle Talk blog reports. "Judge Maldonado currently serves as the Chief Judge of the Little Traverse Bay Bands of Odawa Indians Trial Court." She is a member of the Band's Turtle Clan.
Whitmer made the announcement while attending the Tribal Summit in Sault Ste. Marie, the blog said.
"Judge Maldonado is a nationally recognized expert on the Indian Child Welfare Act … and the Michigan Indian Family Preservation Act."
Her appointment raises the possibility that litigation over Enbridge's proposed Line 5 pipeline could end up before her Appeals Court. (Spoiler alert: If Judge Maldonado a catches Line 5-related case, voices from the right will call for her to recuse herself as biased, ignoring the bias that exists when judges are all, or disproportionately, white.)
Michigan Court of Appeals judges sit state-wide and are elected or appointed from one of four districts, the Court of Appeals website says. District 4 is located in Lansing.
Biden to declare sacred lands in Nevada a national monument
President Biden announced last week that "he intends to designate Avi Kwa Ame, a desert mountain near Laughlin, Nevada, that's considered sacred to Native Americans, as a new national monument," the AP reported.
"Two decades ago, Congress preserved Avi Kwa Ame in the Mojave, and 33,000 acres of surrounding wilderness, the Washington Post reported. "For the Fort Mojave and 11 other tribes, these mystical rocks are the site from which their ancestors emerged."
The Biden administration is preparing a proclamation "that could put roughly 450,000 acres— spanning almost the entire triangle at the bottom of the Nevada map — off limits to development under the 1906 Antiquities Act."
Biden made the announcement during the opening day of the White House Tribal Nations Summit, speaking to representatives from hundreds of Native American and Alaska Native tribes," the AP story said.
U.S. promised Tribes they always would have fish to eat, but those fish now carry toxins
The Confederated Tribes and Bands of the Yakama Nation "are among several tribes with a deep connection to salmon in the Columbia River Basin," ProPublica and Oregon Public Radio report. The basin also is "contaminated by more than a century of industrial and agricultural pollution."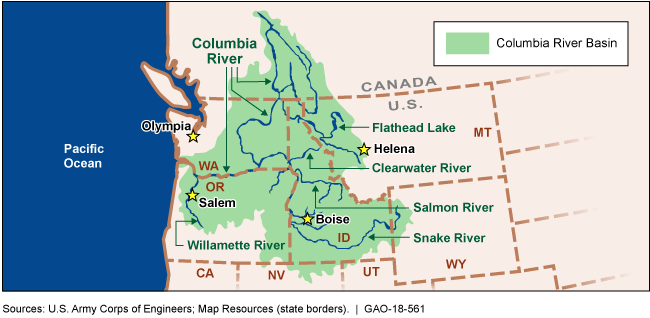 The U.S. government failed to test fish for chemical and metals for decades, the story said.
Oregon Public Broadcasting and ProPublica bought 50 salmon from Indigenous fishermen and had them tested. They found unsafe concentrations of mercury and polychlorinated biphenyls, or PCBs. Many of the 68,000-plus Tribal members living near the Columbia River Basin today face health risks, the story said.
Tribes ceded millions of acres to the U.S. government in the 1850s, but preserved perpetual rights "to their 'usual and accustomed' fishing areas; the Supreme Court later likened this right to being as important to Native people as the air they breathe."
By failing to protect the fisheries, the U.S. government is failing to live up to its treaty commitments.
The military pledged to remove unexploded WWII bombs. Native Hawaiians are still waiting
The federal government has "a century-old promise … to return Native Hawaiians to their ancestral lands," holding the land in trust for them, according to a report by ProPublica and the Honolulu Star-Advertiser.
Those trust lands are included in a 185,000-acre site on Hawaii's Big Island that was used for military live-fire trainings during World War II. It was called the Waikoloa Maneuver Area.
"Troops had fired an unknown number of grenades, mortars and other munitions that failed to explode, and many of the potentially deadly weapons remained, hidden beneath years of soil and vegetation buildup," the story said.
Native Hawaiians have been unable to get federal loans to build housing on these trust lands until the site is cleared. (The U.S. Dept. of Housing and Urban Development imposed a funding freeze on housing loans until the area was known to be safe.) Plagued by "shoddy work" and other problems, the U.S. Army Corps of Engineers has yet to clear the site.
"No one can say for sure when relief will arrive," the story said. "In one area, the state initially projected that the construction of 400-plus homes would be completed by next year. It paved streets, poured sidewalks, erected street lights and installed fire hydrants and road signs. But in 2015 it halted construction amid the federal funding freeze; not a single home has been built. Today, weeds and other vegetation are slowly overtaking the empty lots."